Paul Okoye shares account details, asks fans of PSquare to donate as they celebrate their 40th birthday
Get your cheque books out for the Okoye brothers.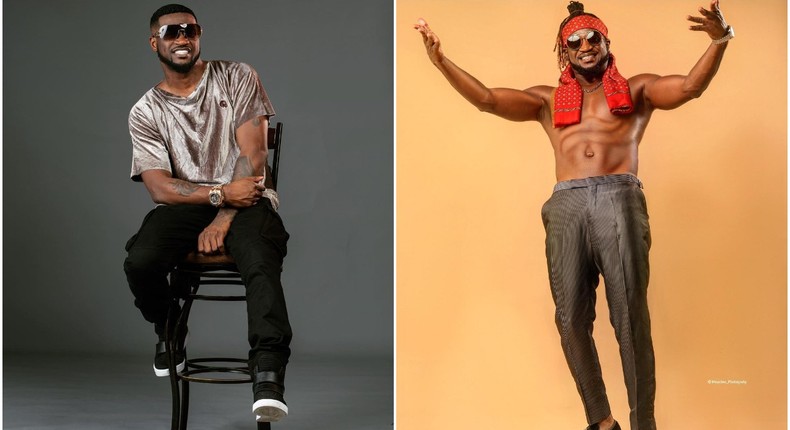 Peter and Paul Okoye [Instagram/PeterPsquare] [Instagram/IamKingRudy]
Just like Davido, Paul Okoye of the defunct PSquare ground has jumped on the trend by asking fans to donate to himself and his twin brother, Peter, as they celebrate their 40th birthday.
The music star took to his Instagram page on Thursday, November 18, 2021, where he shared the bank details.
The Okoye brothers who have been at loggerheads for years now settled their rift which put a hold on their joint career for some years.
The brothers hugged and shook hands to the admiration of their friends and onlookers.
JOIN OUR PULSE COMMUNITY!
Our newsletter gives you access to a curated selection of the most important stories daily.
Welcome to the Pulse Community! We will now be sending you a daily newsletter on news, entertainment and more. Also join us across all of our other channels – we love to be connected!
Unblock notifications in browser settings.
Recommended articles
Niniola's 'Lagos To Jozi' is a timely intervention, but time will tell [Pulse EP Review]
Cynthia Morgan goes on a public meltdown over Davido's largess from fans
Adele talks about Amy Winehouse, almost not releasing her new album '30,' her divorce and more [Interview]
Paul Okoye shares account details, asks fans of PSquare to donate as they celebrate their 40th birthday
'He's a god amongst men' – Harrysong hails Davido after raising over N150M on social media
The return of P Square: Nobody wins when the family feuds, but what does the future hold for the popular duo [Pulse Editor's Opinion]
'It's our birthday' – Peter and Paul Okoye celebrate each other on 40th birthday
Meet this Nigerian artist, his parents actually named him Stainless [Pulse Interview]
Spotify is now available in Democratic Republic of the Congo and Republic of the Congo