The yuletide season is fast approaching and many are beginning to make plans to enjoy the holidays to the fullest! While some are planning holiday destinations and preparing to "pepper the gram" with hashtags, #vacaymode #YOLO #BeachViews, others are looking forward to enjoying their holiday from the comfort of their homes, with family and friends.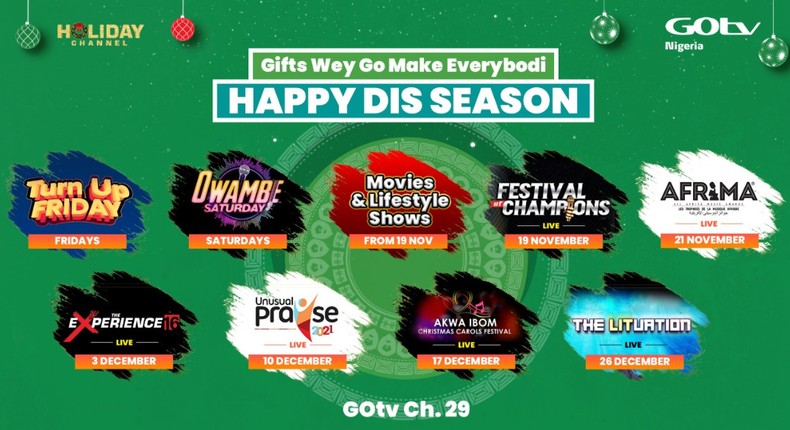 This festive season, GOtv is giving customers an exciting content line-up on a dedicated Holiday Channel (GOtv Channel 29) which gives the best holiday/party experience from the comfort of your sitting rooms.
Make plans with family and friends to enjoy the following must-watch programmes on the Holiday Channel 29.
Afrima Awards – The 'All Africa Music Awards' is back again this season! Get ready to witness remarkable culture, talents and creativity around Africa. Don't miss the much-anticipated awards showing on Sunday, November 21st, 2021 at 2pm.
Lituation Party – Are you hyped for the 2021 Lituation Party? Get set for one of the biggest end-of-the-year music fests as Pepsi lines up your favourite music superstars and entertainment industry acts to light up your mood. Mark your calendars for the dates December 26th, 2021 & January 2nd, 2022.
The Experience 16 – Experience the finest gospel music ministrations with GOtv. Join Donnie McClurkin, Chandler Moore, Dunsin Oyekan, Sinach, Nathaniel Bassey among other international and local gospel ministers as they lead thousands of audiences across the globe in praise and worship on Friday, December 3rd at 8pm.
Unusual Praise – Are you ready to give God unusual praise? Put on your dancing shoes to burst your best moves at home with friends and family as GOtv brings the largest Catholic concert in Africa organized by the Catholic Church of Divine Mercy (CCDM) Lekki to your television screen showing on Friday, December 10th.
Akwa Ibom Christmas Carol – Christmas would not be the same without powerful renditions of your favourite Christmas songs. Get in the mood for exciting performances from the 2021 edition of the Akwa Ibom Christmas Carol on Friday, December 17th, 2021 at 7pm. With GOtv, you get to be a part of the carol with friends and family.
TGIF only gets better when it's the holidays. Get the party started with the weekly Turn Up Friday on GOtv. Pull up your energy to groove to your favourite jams with the biggest DJs on the Holiday channel, every Friday.
The party continues on Saturday! Get ready for energetic African party musical bands bound to excite your dancing mood. Join the fun on the Holiday channel, every Saturday.
You can experience a worthwhile holiday when you reconnect or upgrade to GOtv Supa for the price of N5,500 per month to enjoy interesting channels such as WWE, African Magic Urban, TLNovelas, Honey, Nick Junior, NickToons, ROK, Kix, Novela Magic among other exciting channels. You won't regret it!
For more information on this offer as well as other products and services, visit www.gotvafrica.com. Also, download the MyGOtv app which is available to iOS and Android users to manage your account or select the Auto-Renewal option to stay connected to quality entertainment without interruptions.